Hello all,
Has anyone seen similar proxies or may give additional datas?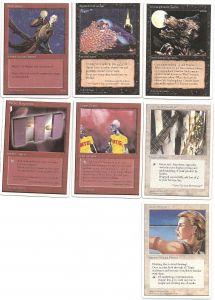 Voir l'image en grand
Cards are thicker than regular cards, though the back is the official mtg's one. They are printed pretty nicely on the cards much than self made stickers glued on mtg cards.
Here are the few infos I got from the person who sold them to me (a previous wotc manager in the uk)
"The cards were part of 2 decks created by the UK WOTC office
They represented distributors and wholesaler contacts , the decks were split up when HASBRO bought out WOTC . All the staff got 7 cards from a deck when the takeover happened.
each deck had 60 different lands including lands all were different , there was 2 decks in the uk , the europe office and USA office each had their own variant using their local versions ."
Any help would be appreciated
Regards
Philippe